HYDERABAD: International and Indian researchers have decoded the secret behind the severe April-May heatwave conditions in India and linked it to the warming in the Arctic region.
Any increase in the temperature due to global warming has an impact on the Arctic warming, which in turn results in heatwaves in India, including Andhra Pradesh and Telangana.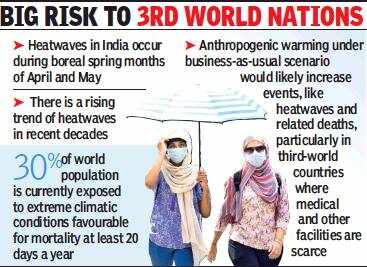 While heatwaves elsewhere in the world are often linked to global warming, particularly Arctic warming, this is the first time that scientists have linked them to heatwaves occurring in India during April and May.
"There is a rising trend of heatwaves in recent decades," the study said, adding that heatwaves in India are for the first time linked to Arctic warming which in turn is a result of global warming.
Indeed, several authors have shown that heatwaves in India are increasing, but a possible cause is global warming. "There is an urgent need to plan mitigation of this very adverse climate change. Indian heatwaves can be predicted about four days in advance prior to their occurrence," the study said.
Mechanism developed to predict heatwaves four days in advance
A team of researchers from the Centre for Earth, Ocean and Atmospheric Science, University of Hyderabad (UoH), National Institute for Space Research, Brazil, Centre for Climate Change and Sustainability, Azim Premji University, Bengaluru, Department of Meteorology and Oceanography, Andhra University (AU), and Atmospheric Science Research Laboratory, SRM Institute, Chennai, used various calculations involving temperature and wind to arrive at the conclusion that any drastic changes in the temperature in Arctic region or northern hemisphere would directly have a bearing on temperature rise over India during April and May.
The result of the study was published in the British journal, Quarterly Journal of the Royal Meteorological Society. The research team was led by Dr V Brahmananda Rao of INPE, Brazil and included Govardhan Dandu from UoH. It said that in the Arctic region, temperature is increasing over twice as fast as the global average. Arctic warming is a result of global warming. This arctic warming reduces normal equator to pole temperature gradient. This is because while the equator is hot, the Arctic region is normally very cold. This change results in an increase in surface temperature causing heatwaves.
Warming in Arctic region is highest in autumn, around 2.8°C. Arctic warming in recent years seems to cause extreme weather events in several places in northern hemisphere. Researchers have developed a mechanism by which heatwaves in India can be predicted four days in advance.
Credit: Source link