This old service station sits in a low lying area within the community. It is demonstrating distress and damage. Northern infrastructure that sits in poor drainage areas is more prone to permafrost thaw and heaves. Photo: Trevor Donald
Permafrost thaw is one of the world's most pressing climate problems, already disrupting lifestyles, livelihoods, economies, and ecosystems in the north, and threatening to spill beyond the boundaries of the Arctic as our planet continues to warm. To examine the effects of permafrost degradation, and increase our understanding of what this phenomenon means for the future of the region (and the world), The Arctic Institute's new two-part permafrost series aims to analyze the topic from scientific, security, legal, and personal perspectives. The second installment of our series features eight new articles on permafrost degradation and its effects on Arctic life, research, and the world at large. But before, check out the seven articles from our first installment, starting with the Intro.
Canada's north is one of fastest warming areas in the world, with temperatures increasing at 2-3 times the global average. The Town of Churchill, a Manitoba municipality located some 1000 kilometres north of Winnipeg on the western edge of the Hudson Bay, is taking action to address a rapidly changing climate. By adapting municipal infrastructure and calling on government and industry to climate-proof supply chains that support the region, Churchill is hoping to bring attention to communities that sit on permafrost below the 60th parallel that often go overlooked.
Aided by staffing support from the Federation of Canadian Municipalities or FCM, the small municipality of less than 1000 residents is trying to ensure the community is adapted and resilient to present and future climate change impacts. Its leaders are setting an example for other northern communities, leading the way in efforts to re-imagine a climate-smart future. They have invited the region, province and federal government to join in their ambitions. By teaming up with researchers across Canada, like the NSERC funded PermafrostNet, the municipality seeks to address community concerns about permafrost in an effort to mitigate the impacts of permafrost thaw as the climate warms. But current events, and particularly the coronavirus pandemic, pose unique challenges. Making the most risk-informed decisions will require the best science-based data available. However, as a result of COVID-19 concerns, researchers are currently unable to travel above the 53rd parallel.
Developing an Action Plan
The town's Climate Change Adaptation Strategy and action plan was developed through consultations with internal and external stakeholders. These meetings brought together the knowledge and diverse backgrounds of community members in order to answer some of the toughest questions, such as what is climate change going to mean for the land in the next 10, 20, 30 years? Although the COVID-19 pandemic hindered the possibility of in-person stakeholder consultations and community engagement, the municipal Climate Change Plan was eventually finalized and adopted by the mayor and council in the fall of 2020.
The Churchill Municipality
Churchill is a popular tourist destination, appearing in the New York Times list of "52 Places to Go" in 2020. It is also a place where people live and connect to the land. Even with pandemic restrictions and economic downturn resulting from a 90 percent drop in tourism, locals are still able to go out on the land. Residents frequently go out to hunt, fish, trap, pick berries not only for subsistence but to promote wellness and good mental health even while a large majority of the world's population still remains in lockdown. In fact, harvesting from the land is how many First Nations members in Manitoba and Inuit in Nunavut are able to secure food for their communities as supply chains were disrupted due to the global pandemic, and have been living off the land since time immemorial.
Also, many residents depend on the land to support their livelihoods. However, that land is changing. That means even the slightest change to the land can cause a very real impact on people's lives.
The Importance of the Human Side
When you share the human side of climate change, people generally relate to it better. The issues become clearer for them, no matter where they come from, when they can see themselves in human stories. In other words, if we can shift climate change out of the language of science, politics and economics and bring it home to the issues of health, food security, culture, families, communities and human rights, it is more relatable. It helps mobilize people to take action and address climate change in a more impactful way.
Recent Federal Action and Local Need
Late in 2020 the Canadian Government pledged billions to curb emissions and hit its targets by 2030. The plan is entitled "A Healthy Environment and a Healthy Economy." While the plan is heavy on mitigation actions for the reduction of greenhouse gas emissions, it lacks adaptation actions that mitigate the risks of climate change impacts. 
Northern communities are being hit disproportionately hard by COVID-19 outbreaks, economic fallout and, on top of this, the impacts of climate change. Due to their remote locations and the lack of infrastructure, access to funding, technologies, skills and training that could help mitigate these effects, these communities remain especially vulnerable. 
Keep in mind also that despite Churchill being a northern remote community just below the 60th parallel and with a more than 50% indigenous population, it is ineligible for the climate change funding provided to the territories above the Arctic Circle, as well as funding provided to First Nations communities. On top of this, Churchill, as a municipality, is ineligible for several funding streams both provincial and federal, that are meant to address climate change.
The Desperate Need for Infrastructure Investments
While most think about declining sea-ice, diminishing polar bear populations and melting glaciers, few consider the infrastructure needs in the North. It could be that northern infrastructure has such a small footprint compared to large urban centres, but the local infrastructure is tremendously important. Churchill has substantial infrastructure investments by Northern standards,with the Hudson Bay Railway, Port of Churchill and the Churchill Airport.
All three of these pieces of infrastructure are impacted by a changing cryosphere. Take for example the railway that sits precariously on discontinuous and continuous permafrost. Or, look at the port, which must face the demands of an increasing shipping season as the result of declining sea-ice in the Hudson Bay. The costs associated with maintaining this infrastructure are increasing as the climate changes. This throws into question commercial viability for both the railway and the port. 
Public housing in Churchill, built shortly after the Cold War and making up 80 percent of the total housing stock, will at some point have to be replaced. However, affordable housing in Churchill and other northern remote communities should not mean cheaply built housing in unsafe places, like on top of areas with poor drainage and thawing permafrost.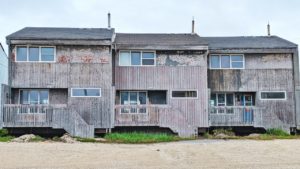 Potential crises can be avoided with adequate investments into permafrost hazard mapping. But this requires new funding, which needs to be available to address extra new home construction costs to limit risk exposure down the road. 
Also training incentives need to be made available for municipal staff in order to properly reconsider how municipal infrastructure is managed. Having a viable, healthy community with high standards to address, is possible. But it will take a firm commitment from the government, the biggest landlord and property owner in the North. 
Permafrost is a concern in the community, but more stringent building standards for homes and infrastructure on permafrost is not the only answer. While strict and adaptive regulations better protect northern communities situated on permafrost, like Churchill, and reflect policy changes that experts say are needed to cope with effects of global warming, they also have a downside. Homes and infrastructure are already more expensive to build with increased costs of shipping goods and materials, as well as mobilizing and demobilizing equipment and contractors. 
There is also the cost to municipalities for site investigations, building code enforcement, and taking into account that not every community has a building inspector or by-law enforcement.
Why Northern Infrastructure Matters
Quality infrastructure in the North matters. Federal and provincial funding is key for projects, helping to create jobs and spur economic growth. It also supports the building of clean and inclusive communities.
Our approach to climate change in the North should look no different from our approach to COVID-19. We should move forward by maintaining a sense of urgency, tightening our focus, listening to science, and innovating relentlessly.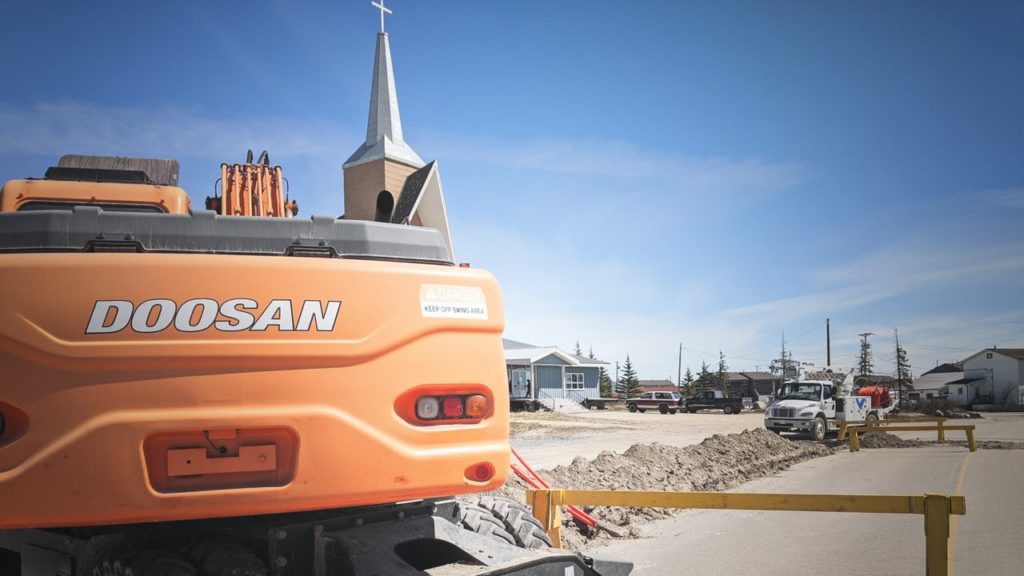 Smart infrastructure investments are key to climate adaptability just as they are key to COVID-19 recovery. There are opportunities for investment in the North through the Canada Infrastructure Bank and National Trade Corridors Fund, but applying for these funding streams is no easy feat. The processes are extremely resource intensive for small northern communities. They also require a climate lens to be done for either mitigation of GHGs or making the infrastructure more resilient.
A Need for Leadership Now More than Ever
Canada's Arctic and Northern Policy Framework mentions Churchill by name. The framework only functions as a guide and not a concrete plan. The need to clarify the roles of communities such as Churchill, public and private sectors and Indigenous development corporations is necessary to co-develop a strategy for moving forward. With several nation states present in the North representing several jurisdictions of government with numerous land-claims agreements and treaty lands along with greater access to natural resources and shipping routes, it will be imperative a strategy is implemented and funded now rather than later.
The Government of Canada has provided funding to restore rail service on the Hudson Bay Railway Line, which is expected to grow into a key transportation and export hub serving both international markets and northern Canada. The rail line acquisition by the Arctic Gateway Group represents a historic partnership which combines First Nations and community ownership with private sector leadership. Restoration of the rail line opens the door for economic investments and opportunities for the town of Churchill and northern Manitoba residents and reflects a shared priority to strengthen transportation infrastructure for Canada's Arctic and North.

Canada's Arctic and Northern Policy Framework
The decision to adapt is an insurance policy for if the world is unable to lower the global average concentration of atmospheric carbon dioxide (CO2), which continues to trend upward, despite the pandemic and a worldwide lockdown. In a drastically altered political landscape, adaptation offers the path of least resistance. Any type of investment in adaptation will rely on a federal commitment and municipal expertise on the frontline.
Northern municipalities like Churchill also need to be empowered by the province with modern tools, funding, and the proper authorities to tackle the challenges of climate change. ClimateWest was launched in early 2021 to serve as a regional hub for communities in Canada's prairie provinces, and provide climate resources and services for both the south and northern halves of the provinces. Information from ClimateWest can for example support adaptation efforts in remote and northern communities that are assessing their food security due to climate change impacts on transportation and wildlife habitat. ClimateWest could also help coordinate provincial policies related to sub-Arctic development.
Churchill is hoping things can go back to normal after the pandemic and the tourists and researchers can come back. More than 18 months ago, the town lost its only land connection to Canada's south when the rail washed out, despite this unprecedented challenge it was able to build back better and after the pandemic it wants to grow back better.
Trevor Donald is the Town of Churchill's Climate Change Adaptation Coordinator. This position was made possible by funding from FCM and Infrastructure Canada's Investing in Canada Plan.
Credit: Source link